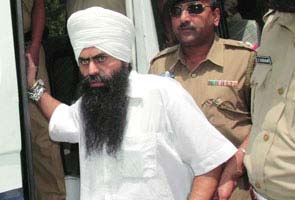 New Delhi :India's Supreme Court on Friday stayed the execution of a Sikh militant convicted over a car bombing two decades ago, after his wife said he had developed mental illness while languishing on death row.
The Supreme Court announced it would review a plea for clemency for Devender Pal Singh Bhullar, who was convicted over a car bombing in the Indian capital that killed nine people and injured more than 20 in 1993.
"We want to know the present condition of Devender Pal Singh Bhullar," Chief Justice Palanisamy Sathasivam told the court in New Delhi.
Bhullar's case is the first to be taken up by the Supreme Court since its landmark ruling earlier this month that places new restrictions on executing prisoners in the world's biggest democracy.
The top court commuted the death sentences of 15 convicts on January 21, announcing that "inordinate and inexplicable" delays in carrying out executions were grounds for reducing their original punishments.
Latest news, world news, current affairs, breaking news, arab country news, daily news, Islamic news, india news, Pakistan news, , india Pakistan news, current news, news headlines, Latest World News,Articles,
Latest news, latest urdu news, world news, current affairs, breaking news, arab country news, sport news, cricket news, daily news, Islamic news, india news, Pakistan news, india Pakistan news, current news,Current affairs, Economic Affairs,Islam and Human Rights, Islam and Politics , Islam and the West, Muslim Media, Islamic Society, Islamic World,Latest World News, breaking news ,Top Breaking News, Current Affairs, daily news, recent news, news headlines