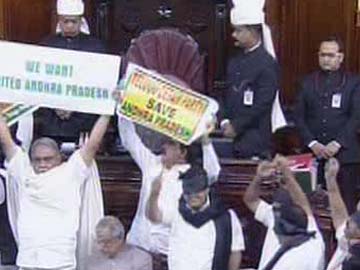 The Lok Sabha turned into a battlefield on Thursday with senior MPs scuffling as home minister Sushilkumar Shinde introduced the Telangana bill around noon.
The UPA government struggled to table the bill as expelled Congress MP Lagadapati Rajagopal heightened the drama by spraying pepper spray in the air after being stopped from rushing to the Speaker's chair.
The pepper spray left several parliamentarians, staff and journalists coughing and teary-eyed. Many MPs tried to rush outside to avoid the smell and chemical effects of the spray.
TDP MP Venugopal Reddy broke the Speaker's microphone, while TV reports also claimed he brandished a knife during House proceedings. The lawmaker, however, denied the allegation saying he was merely waving the Speaker's mic.Marshalls stepped in immediately and tried to get medical help for Rajagopal and others while another MP was rushed to the nearby Ram Manohar Lohia Hospital in an ambulance that had been kept on standby.
Eighteen Lok Sabha MPs were Thursday suspended for protesting when the Telangana bill was introduced in Parliament.
Those suspended include L Rajagopal, expelled Congress member who had earlier sprayed pepper gas from a canister in the House, causing chaos. TDP member M Venugopala Reddy, who broke the mike, was also among the MPs suspended.
Others suspended are Sabbam Hari, Anantha Venkatarami Reddy, Rayapati Sambasiva Rao, SPY Reddy, M Sreenivasulu Reddy, V Aruna Kumar, A Sai Prathap, Suresh Kumar Shetkar, KRG Reddy, Bapi Raju Kanumuri and G Sukhender Reddy (all Cong), Niramalli Sivaprasad, Nimmala Kristappa, K Narayana Rao (all TDP), and Y S Jaganmohan Reddy and M Rajamohan Reddy (both YSR Cong).
One of the MPs told the media that Speaker Meira Kumar took the action following unprecedented disturbances in the Lok Sabha.
Under rules, members who are suspended remain suspended for five sittings or the rest of the parliament session whichever is less.
As reported by HT earlier, the entire visitor's gallery was cleared and even the Speaker's Gallery was kept vacant. Journalists were allowed in but only after a thorough security check.
Special ambulances, three in number, were brought to the Parliament complex to meet any emergency situation. Prime Minister Manmohan Singh, Congress president Sonia Gandhi and vice-president Rahul Gandhi were absent in Lok Sabha when the government tried to table the bill.
Latest news, world news, current affairs, breaking news, arab country news, daily news, Islamic news, india news, Pakistan news, , india Pakistan news, current news, news headlines, Latest World News,Articles,
Latest news, latest urdu news, world news, current affairs, breaking news, arab country news, sport news, cricket news, daily news, Islamic news, india news, Pakistan news, india Pakistan news, current news,Current affairs, Economic Affairs,Islam and Human Rights, Islam and Politics , Islam and the West, Muslim Media, Islamic Society, Islamic World,Latest World News, breaking news ,Top Breaking News, Current Affairs, daily news, recent news, news headlines